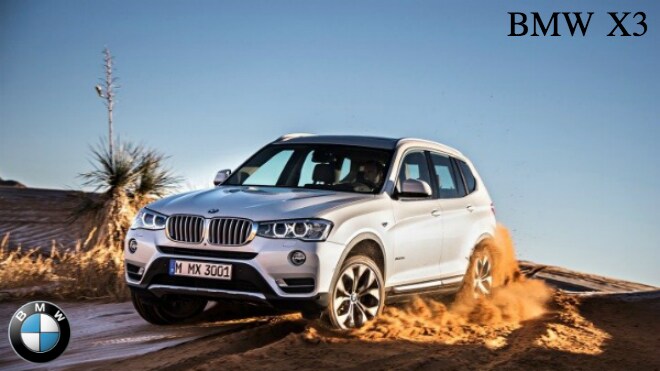 Own The Open Road
The all-new BMW X3 is not a sports utility vehicle. It's a Sports Activity Vehicle built to outperform the competition. BMW of Dayton on Poe Ave. was built to do exactly the same.  
Get into the new
BMW X3
and command every inch of the road with absolute confidence. Your X3 boasts some pretty amazing driving technologies, ensuring the safety of you and your passengers, without sacrificing one iota of performance.  
Enjoy some incredible available features, like the 360° panorama Surround View Camera System, which helps you get in and out of those tight parking situations. On the road, BMW's variable Sport Steering will adjust the steering ratios for increased agility and easier maneuvering even on the most winding roads.  
Your instincts have led you right to the new BMW X3. No matter if you're traversing the precarious, snowy and icy roads of Dayton in the winter, or you're running errands all about town, the new X3 is the ideal travel companion for those with highly discriminating taste, like you. You want the best, and you certainly deserve it. The professional team at BMW of Dayton is here to make sure you get it. After all this isn't just a new car, it's a new BMW. You expect the experience to match the promise of quality and style for which BMW is synonymous. An unparalleled vehicle demands an unparalleled dealership family. In Dayton, look no further that your own BMW of Dayton. Who says you can't have it all? Certainly not us; because we believe in delivering the type of expectation-exceeding experience that will keep you coming back for more.  
The super agile, yet rugged BMW X3 delivers exciting performance, intelligent innovations and incredible versatility; all working together to create a symphony of driving bliss. Delight your senses and make beautiful music in your new X3 from BMW of Dayton. It's time for you to get behind the wheel of this exquisite machine. Contact us online, by phone or text, or just stop in to our relaxed showroom to get everything you could ever want and more, from a vehicle and from our dealership family.  
Hours
Monday

9:00AM - 8:00PM

Tuesday

9:00AM - 8:00PM

Wednesday

9:00AM - 8:00PM

Thursday

9:00AM - 8:00PM

Friday

9:00AM - 6:00PM

Saturday

9:00AM - 5:00PM

Sunday

Closed
Make an Inquiry