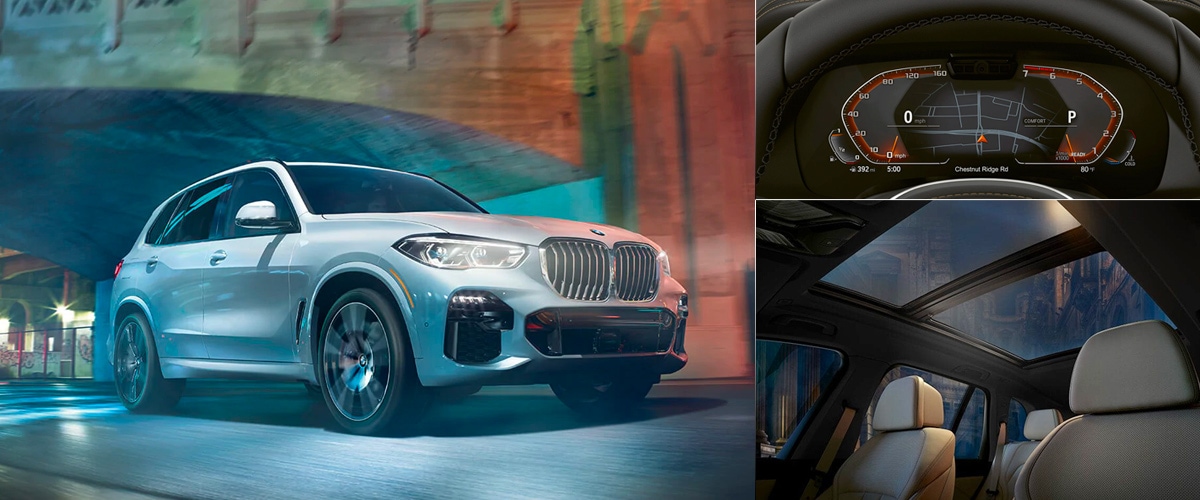 When you hear the acronym VIP what's the first thing that comes to mind? Star-studded treatment only for celebrities and billionaires? Well, we have some exciting news for you! YOU are a VIP to us here at BMW of Dayton, located at
7124 Poe Ave Suite 3, Dayton, OH
. You are treated as a VIP from the moment you step onto our lot, and throughout the ownership of your
new
,
used
, or
certified pre-owned
BMW sedan or SUV. Below, we'll break down some of the great benefits our BMW of Dayton VIPs receive.
BMW's VIP Exclusive in Dayton, OH
We feel that when you buy a car or SUV from us, you're not only getting behind the wheel of one of the best vehicles in the market, you're joining our BMW of Dayton family. We believe in building relationships. One way do this is by offering our VIP exclusive package so we can continue to take care of you and your vehicle for as long as you own the vehicle. Let's take a look at some of the amazing benefits included in BMW of Dayton's VIP Exclusive.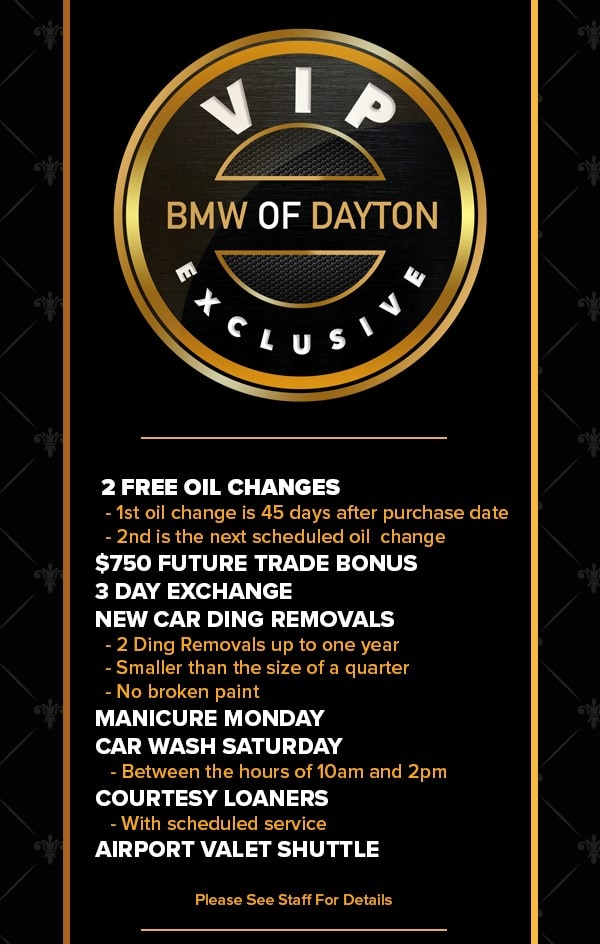 Three-Day Exchange Policy
Our VIP exclusive package includes a three-day exchange policy. If for any reason you're not happy with your new, used, or certified pre-owned vehicle purchase, just come back in and exchange it for one that suits you better. Sometimes life changes quickly! You may have just purchased a 2019 BMW M4 Coupe Convertible only to find out the next day that you're expecting a child! You can exchange that M4 for a nice 2019 BMW X5 SAV. Or maybe you've bought a BMW SUV, and it's too tight a fit in your driveway. We want our customers to be happy with their vehicle as long as they own it, and our exchange policy gives them peace of mind.
Future Trade-In Bonus
As part of our VIP exclusive program, you also receive a $750 future trade-in bonus. You can think of this as instantly adding $750 to the future trade-in value of your vehicle. This pretty much guarantees you'll be getting more than the fair market value any BMW of Dayton vehicle you trade in at the dealership. We've had customers forget about this VIP benefit, only to be pleasantly surprised when they bring their vehicle in when it's time to upgrade. Who doesn't want $750 off their next BMW?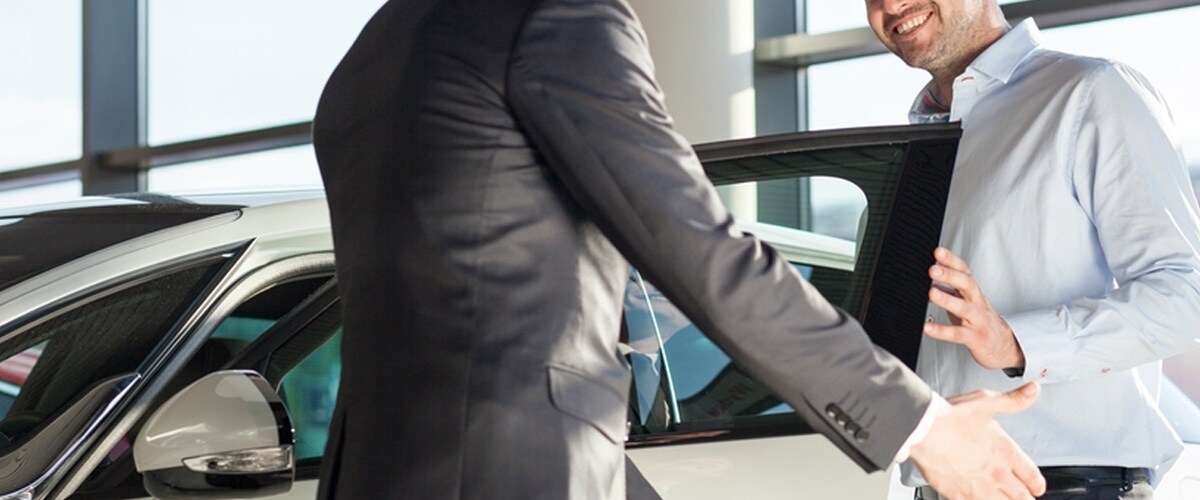 Free Car Washes for Life
All of our customers, whether they buy new or used, can receive free car washes every Saturday between 10:00 am and 2:00 pm. Just call the dealership, and we'll be ready to get your car looking brand new. This is a popular benefit, especially for businessmen and families who want to keep their prized vehicle looking shiny and new.


Service Benefits
All BMW of Dayton VIPs get two free oil changes here in our service department, providing added value to our customers. Nobody wants to think about spending money on an oil change right after they've bought their vehicle, so we give our VIPs their first two oil changes on us. And speaking of servicing your new car, imagine you come out to the parking lot and find a fresh ding on your door. That's a pretty bad feeling. It happens, and that's why we provide two free ding removals-no more worrying about parking along busy city streets and parking lots! While it may have never happened to you, we've had plenty of customers take advantage of this VIP benefit.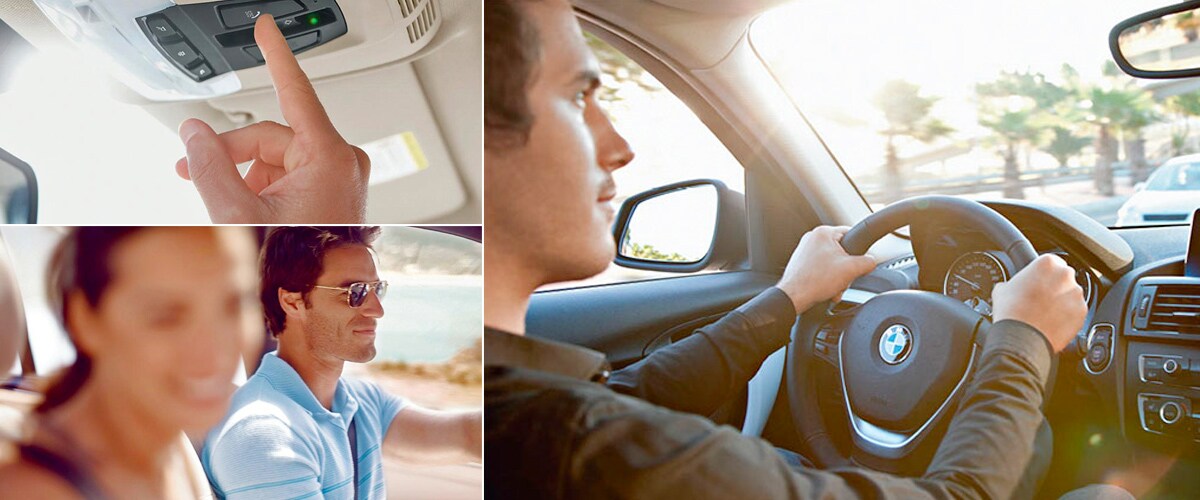 Free Airport Valet & Loaner Cars
Our airport valet service is one that we like to highlight. Give us a call ahead of time to let us know when you'll be headed out of town, and you can park your car safely at the dealership while you're out of town. Not only that, but provide a free shuttle service to the airport! No more paying for airport parking, or trying to catch a cab. For those who are often out of town on business, this can be a lifesaver.
We also know that life doesn't stop when your car's in the shop. That's why BMW of Dayton VIPs get use of courtesy loaner vehicles during a scheduled service or repair. If you have a big appointment, or just need to get the kids to school, you need a car you can count on that meets your standards for quality and luxury. We don't want our customers having to call Enterprise, so you will have use of one of our Executive Loaner BMW vehicles as part of our exclusive VIP benefit.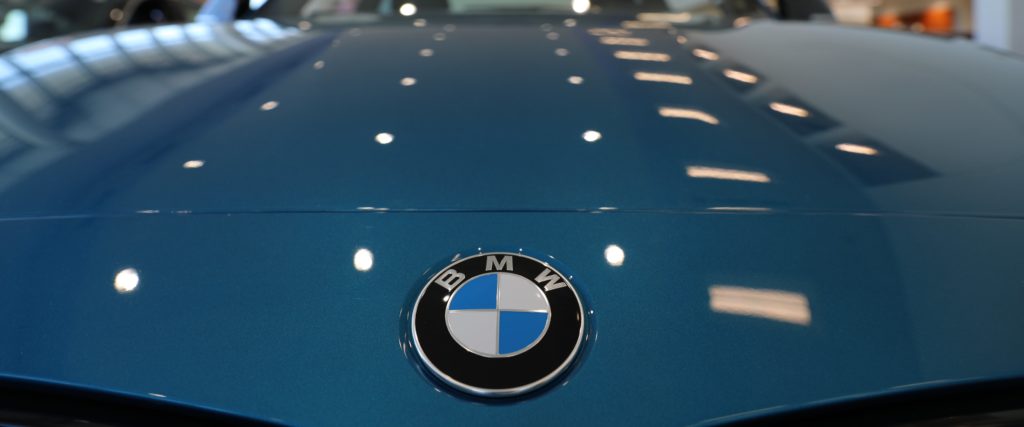 Become a BMW of Dayton VIP
Excellent customer service is our number one value here at BMW of Dayton, and we work hard to go above and beyond to give you the best experience possible. We're excited to offer these VIP benefits to you in appreciation for your loyalty to us and the BMW brand. As someone accustomed to driving European luxury, we know you want a luxury experience at the dealer as well.
If you're interested in the VIP exclusive offer and have any questions, please give us a call at 888-889-5997 or click here to fill out our contact form. All of us here at BMW of Dayton located at 7124 Poe Ave Suite 3, Dayton, OH can't wait to get you behind the car or SUV of your dreams! We're just a short drive from Centerville, Springboro, Beavercreek, Lebanon, Oakwood, Kettering, and Vandalia.
Make an Inquiry
Hours
Monday

9:00AM - 8:00PM

Tuesday

9:00AM - 8:00PM

Wednesday

9:00AM - 8:00PM

Thursday

9:00AM - 8:00PM

Friday

9:00AM - 6:00PM

Saturday

9:00AM - 5:00PM

Sunday

Closed